What is terminal illness?
Terminal illness, often known as life-limiting illness, refers to a person who has a disease that cannot be cured and will eventually lead to death. A doctor will usually use a range of days, months, or years to predict a person's life expectancy if they have a fatal illness. If the disease is terminal, it's important to discuss death and plan for the end of life.
How do I know if my illness is terminal?
Once examinations and, in some instances, treatment has been completed, you can be diagnosed. Your doctor, specialist, or whoever supervises your condition's treatment will clarify whether your sickness is terminal.
Healthcare practitioners may use different terms or definitions at times. If you are unsure or concerned about whether your illness is terminal, consult with your doctor or nurse.
How long can you live with a terminal illness?
A person suffering from a terminal illness may live for days, weeks, months, or years. It is frequently determined by their diagnosis and any treatment they are receiving. Unfortunately, healthcare specialists can't always determine how long someone with a terminal condition will live.
A terminal diagnosis might be frightening or upsetting because many assume they will die soon. This may worry you. Remember that no two terminal illness experiences are the same. As the disease proceeds, a person's condition may steadily worsen. Other people may feel better or worse at different points in their illness. It's not always a straight line.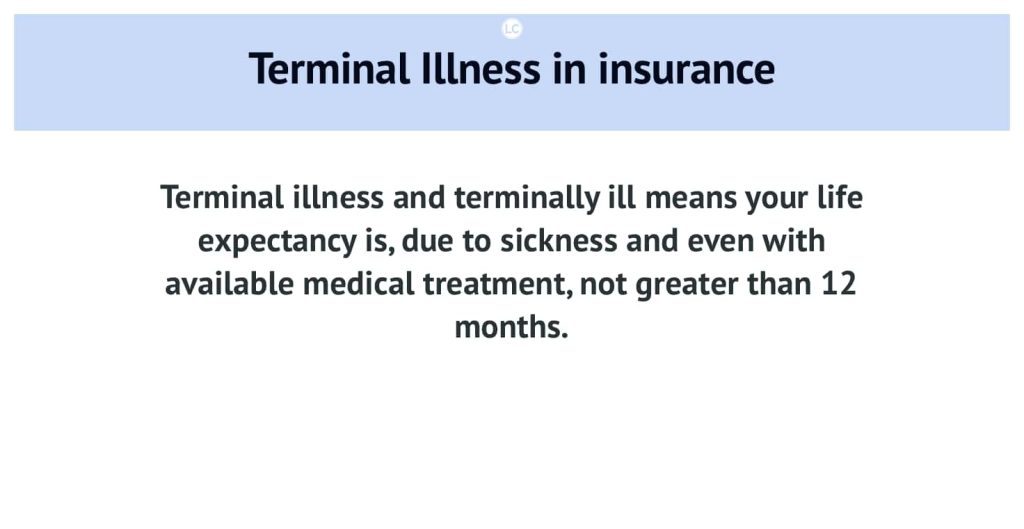 What is terminal illness for insurance?
Terminal illness and terminally ill means your life expectancy is, due to sickness and even with available medical treatment, not greater than 12 months.
This must be:
in the opinion of a specialist medical practitioner; and
if the insurer requires, in the opinion of an approved specialist medical practitioner; and
in the insurer's assessment, having considered medical or other evidence.
What are the most common terminal illnesses?
People who are terminally sick may have a single disease or a combination of diseases. There is no definitive list of terminal illnesses.
Some terminal illnesses include the following:
advanced cancer
congestive heart failure (CHF),
chronic obstructive pulmonary disease (COPD),
kidney disease,
neurological diseases like Alzheimer's, Parkinson's and Amyotrophic Lateral Sclerosis (ALS)
motor neurone disease (MND)
When you discover that someone you care about has a life-threatening illness, time stands still. But, regardless of what happened that day, time and life go on after the diagnosis is made—irrespective of whether you are ready to handle it.
As the end draws near, discussing death and preparing for the administrative chores are important. Other crucial factors are assessing the level of the ill person's health insurance coverage, income protection insurance, life insurance, and estate planning papers such as your Will and Enduring Power of Attorney.
Incurable Disease and Estate Planning
It is critical for the terminally ill and their advisors to review and update key estate information. An Enduring Power of Attorney (EPA), for example, provides the person power over their medical care, including whether it should be withheld if the person becomes incapacitated.
Granting someone Power of Attorney in the event of incapacity can be beneficial when managing and eventually settling a person's affairs. This is because a Power of Attorney allows another person to act on someone's behalf regarding legal, financial, and business matters.
A will is a legal document that specifies what you want to happen to your property and assets when you die. It also includes details on how you want your dependents, such as your spouse and children, to be cared for.
If you die without a will, your assets will be split in fixed proportions among your spouse/partner, children, and/or immediate family members. You will have no say over who gets what, which may generate problems for family members.
Your will can also include your desires for your children and if you are a single parent with small children, who you would like to care for them after you die.
What's an Enduring Power of Attorney (EPA)?
With an Enduring Power of Attorney, you choose someone to decide for you if you can't.
Choose someone you trust to act in your best interest and fulfil your care requests.
You can name one EPA to look after your property and finances and another to oversee your care and welfare, or you can name one person to do both.
You must sign an Enduring Power of Attorney instrument while mentally capable. This is because the EPA for your personal care and welfare takes effect only when you cannot make decisions. In contrast, the EPA for your property can take effect whenever you like – either as soon as the document is signed or only if you become mentally unfit.
Contact your attorney for assistance in establishing your EPA.
What's advance care planning?
Advance care planning¹ lets you tell people how you want to be cared for if you become ill or cannot decide. For example, if you are receiving palliative care, writing out your intentions is a good idea so that family, friends, and healthcare personnel understand what is important to you.
An advance care plan does not require the services of a lawyer, but it is a good idea to inform your family about its contents and where to find it. When creating your advance care plan, your palliative care team can support you.
What's an advance directive?
An advance directive also called a "living will," is a written document that says how you want your medical care to be handled if you cannot say so. When you want medical treatment withheld is often listed. Your GP can help you create a living will.