GROUP INCOME PROTECTION INSURANCE
In challenging times, Group Income Protection supports employees' recovery while easing financial concerns.
Group Income Protection provides your staff a financial safety net if they cannot work due to sickness, injury, or mental illness. It pays a percentage of an employee's regular income until the employee returns to work or retires.
Helps you attract and retain the best staff
Pays your staff up to 75% of monthly salary

24/7 worldwide protection, at work or during one's own time

Easy onboarding – no health questions or health checks – staff can claim right away
Cost-effective premiums, between 0.5% and 1% of annual payroll
What is group income protection?
Group income protection insurance is a type of income protection policy paid for by the company that covers a part of an employee's income if they are unable to work due to sickness, mental illness, or an accident.
Group income protection insurance is a sort of income protection policy paid for by the company that covers a part of an employee's income if they are unable to work due to illness, mental illness, or an accident.
Financial support kicks in after a waiting period, known as the waiting period. This is set by the employer and could be in line with sick pay arrangements or a period such as 4, 8, 13, 26 or 52 weeks.
It offers a way for businesses to provide financial support and expert rehabilitation services for staff under a single policy to their employees, and it's available to companies with ten staff and more.
Long-term absence often means high costs for a business or organisation, leading to a financial dilemma. Can the company afford to continue paying the employee and their replacement?
One of the benefits of group income protection insurance is that it is more affordable than individual private income protection insurance since the risk is dispersed over a more significant number of individuals.
The key benefit of purchasing as a group is that an insurer will charge a significantly reduced premium per person for a high-quality policy. In addition, generous policy features can also be negotiated and included at a minimal additional charge and, in some cases, no additional charge.
What are the benefits of group income protection insurance?
Group income protection provides a valuable financial safety net where an employee is unable to work due to long-term illness or injury, but it is also an important workplace health and wellbeing tool.
Whether reducing the length of time someone is absent by facilitating appropriate rehabilitation and support, or providing employees with tools and advice that encourage them to adopt healthier lifestyles, it can help benefit the business and its workforce.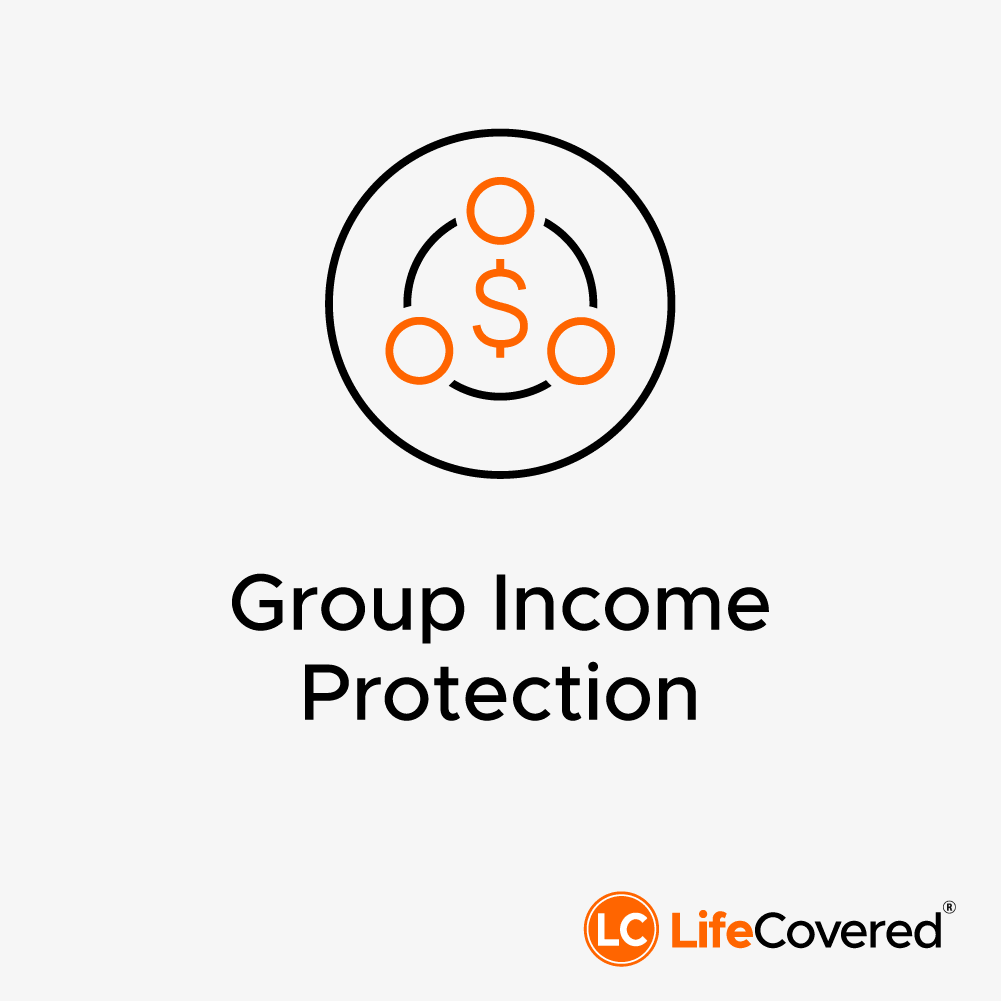 Competitive benefits package to attract and retain employees
Reduce the impact of long-term absence
Easy to set up with simple yearly accounts
A company culture that promotes health and wellbeing
Continue to earn income during illness or injury
Support with rehabilitation
Automatic Acceptance, no health questions
How Group Income Protection can help
If an employee is too sick or hurt to work, they may be eligible for income protection insurance. It is important that employees understand income protection covers a portion of their income – replaces an income loss.
Injuries and illnesses covered by group disability insurance
Depending on the insurance provider, group disability insurance can cover:
Physical injuries
Illness or sickness
Chronic pain
Mental health issues
How much does group income protection cost?
The cost of group disability insurance will vary depending on how your business sets up its plan and which insurance provider you're with. Some factors that will impact the rate include, but are not limited to:
Benefit coverage amount
Number and the average age of employees
Industry and occupational risks
A workplace salary continuance plan usually costs between 0.5% to 1% of the annual salary expenditure.
Similar employee insurance benefits
Why choose LifeCovered for your small business group income protection insurance?
As independent disability insurance brokers, our primary goal is to help companies determine what they need and find the best options for employee salary continuance.
Since we're not tied to any one insurance provider, we can offer you objective guidance while searching for the most comprehensive, tailor-made policy at the most reasonable cost.
Apart from this, there are other advantages to working with us:
There are no extra charges beyond the cost of your insurance to work with us.
We'll work with you to develop a group income protection insurance plan that's tailor-made for your business.
We're here for you and your group to assist whenever you need us.
Request a group income protection insurance quote?
Since 2017, LifeCovered has worked hard to provide our customers with tailored Group Income Protection solutions that are easy to manage. Every month, we help protect the financial futures of over 1,600 New Zealand staff.
Group Income Protection Insurance FAQs