AIA Vitality: New Complete 2022 Guide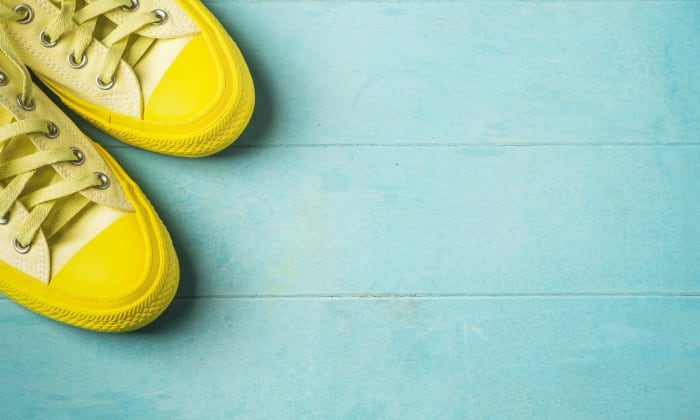 AIA Vitality by AIA New Zealand is the greatly popular health and wellness program, that rewards you with shopping- and discount vouchers, insurance discounts when you are actively improving your health.
Whether you're looking to lose weight, become more active, improve your diet or simply maintain a healthy lifestyle, AIA Vitality is right for you! Get a free AIA Vitality life insurance quote to get started.
AIA Vitality is a unique world-leading, a science-backed wellness programme that encourages people to look after their health and wellbeing while benefiting from lower premiums and other rewards.
From discounted Hoyts movie tickets, Airpoints Dollars™ and flight savings, weekly voucher cash backs and lower insurance premiums and more, being healthier has never been more rewarding.
Healthier, longer, better lives.
How does AIA Vitality work?
AIA Vitality encourages and rewards you for looking after your health while benefiting from lower insurance premiums and rewards. AIA Vitality takes a comprehensive approach by providing you with the best tools and support to
If you are interested in a particular topic, feel free to jump ahead:
When it comes to healthy living, we asked #WhatsYourWhy.
You told us your "Why" was actually a "who".
Your children.
So now, we're giving them a chance to ask about you.
Watch the film to see what David Beckham, global AIA ambassador has to say.
As well as improving and maintaining your long-term health, you can also keep your premiums low, by improving your AIA Vitality status.
AIA Vitality members earn points through several health and fitness-related activities. These can include health and nutrition assessments, along with physical activity targets.
AIA Insurance is New Zealand's first insurance company that rewards people for living healthy.
The membership programme is an interactive and personalised wellness program that makes it easy for you to live your healthiest life.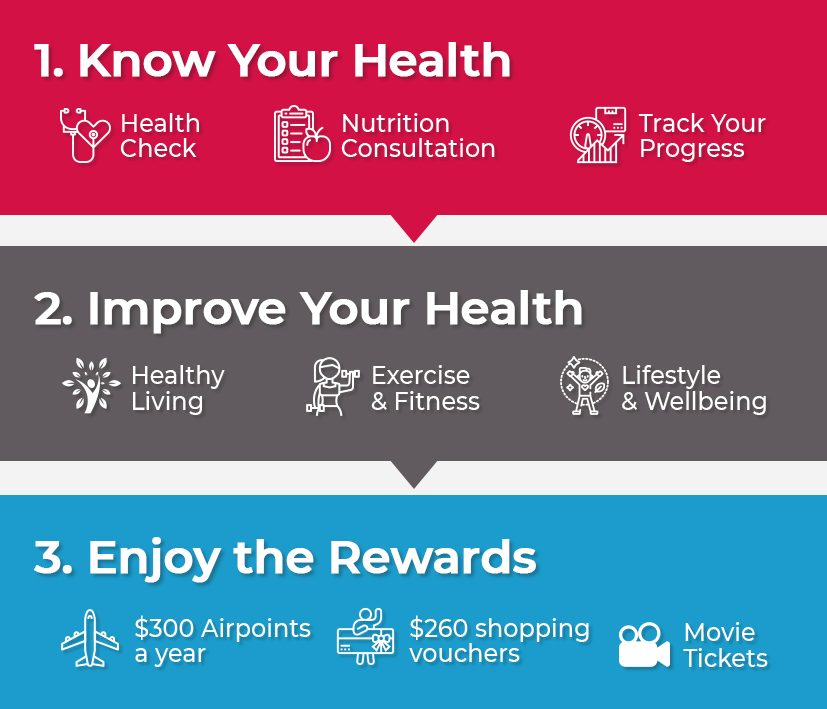 2. How can I earn points and improve my status
You start each membership year with zero AIA Vitality points and accumulate them through ongoing program engagement.
The higher your status, the greater your rewards.

When your next membership year rolls around, you retain the status you've earned and the rewards that come with it.
So how can I get points.
3. Know your health: Complete health checks online and offline
Online health checks, check-ups with your local Pharmacy, fitness assessments & vaccinations.
AIA Vitality helps you to know your health through a series of free health assessments and checks relating to nutrition and exercise, which are developed by medical and health professionals.
Here are some examples.
a) AIA Vitality Age Assessment - online
The AIA Vitality Age Assessment is an online assessment based on your risk factors and lifestyle behaviours.
It takes approximately 20 minutes to complete.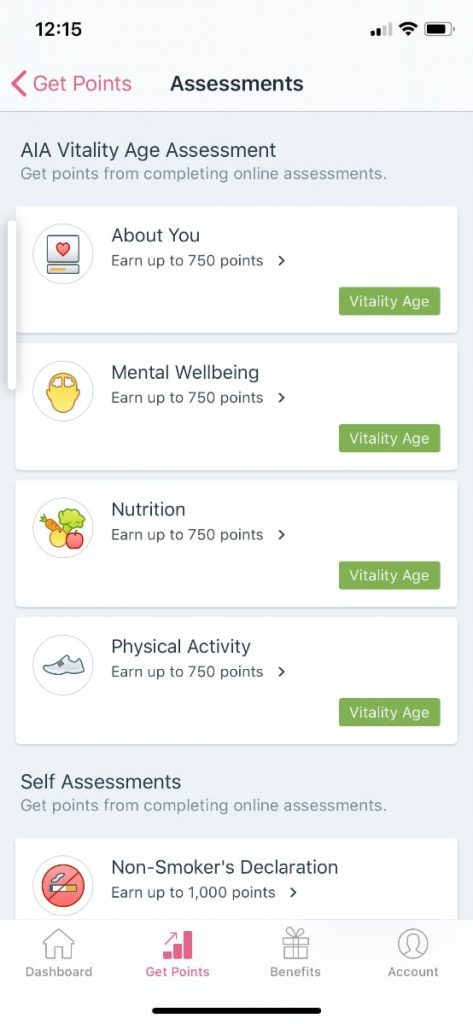 b) Non-Smoker's Declaration - online
Earn points for being a non-smoker.
If you currently smoke, find out how the program can help you quit.
c) AIA Vitality Health Check - offline at a local pharmacy
AIA Vitality members receive one free AIA Vitality Health Check at participating Unichem and Life pharmacies each membership year.
Members may also choose to complete the check with a GP or other medical professional
d) Annual dental check-up - offline
Help prevent dental issues with regular check-ups and get points.
According to the World Health Organisation (WHO), eating healthy food, participating in physical activities and avoiding tobacco abuse can help prevent up to 80% of premature heart attacks, strokes and type II diabetes, and 40% of cancers (see source).
As you make healthy choices, like eating right, going to the gym or for a health screening, you earn AIA Vitality Points.
The more points you earn, the higher your AIA Vitality Status and the greater the rewards.
a) Earn AIA Vitality points for physical activity
Depending on your fitness device or app, you could earn AIA Vitality points for physical activity and sleep.
Physical activity points are capped at 15,000 and sleep points at 2,000 per membership year.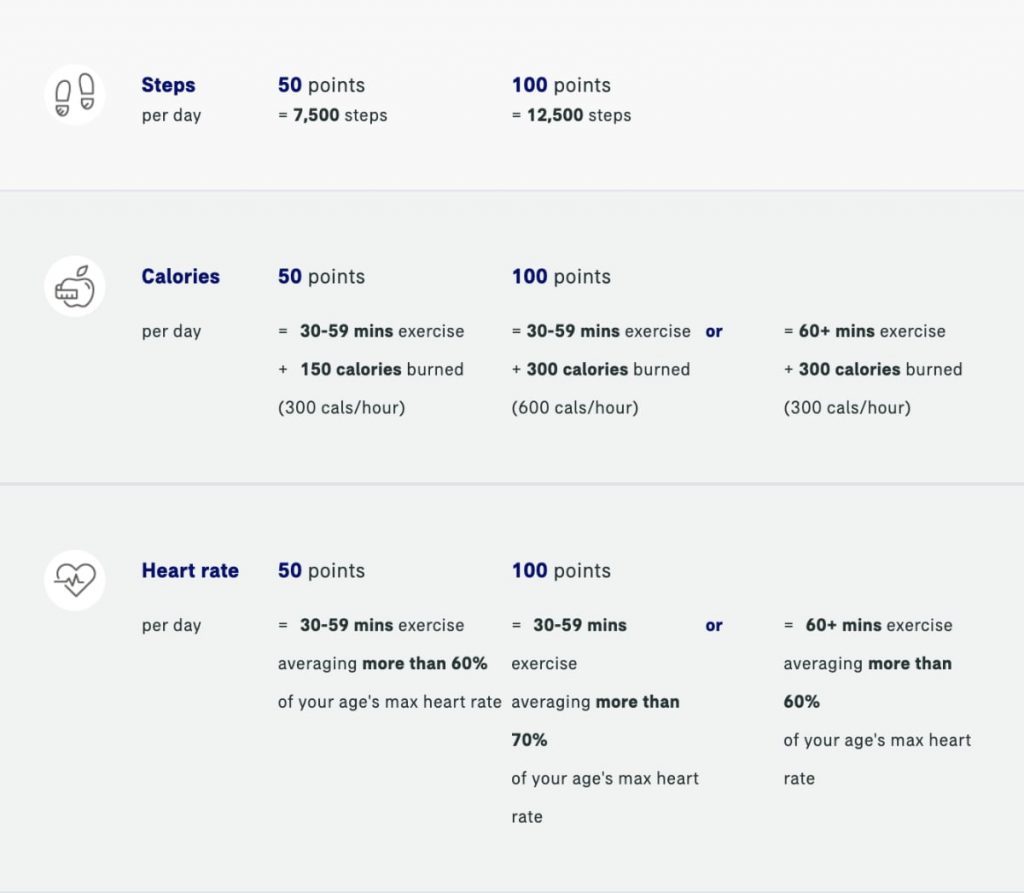 Nothing is better than enjoying the rewards after hard work. And AIA does reward healthy behaviour.
Check out the benefits:
Nothing is better than enjoying the rewards after hard work.
AIA helps you by kick starting your AIA Vitality journey with an initial 10% premium discount on your life insurance premiums (can increase to 20% discount).
And an additional 2% discount every year when you reach and maintain a Platinum status to a total of 20% discount on your insurance premiums.
Then you're in control of the discount you can receive through ongoing engagement with the AIA Vitality program.
On your policy anniversary, your premium discount will be adjusted depending on your program status.
As an Airpoints Member, earn up to 300 Airpoints Dollars™ per membership year for achieving higher status levels
(Get 25 Airpoints Dollars when you reach Silver, 100 Airpoints Dollars when you reach Gold and a further 175 Airpoints Dollars when you reach Platinum).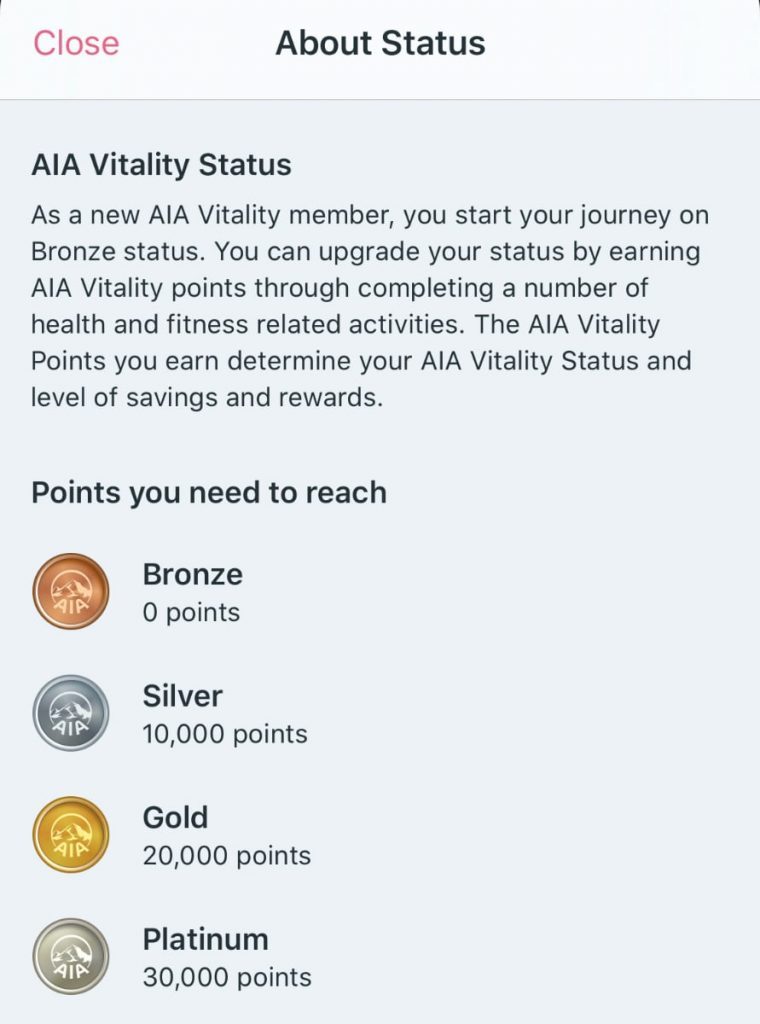 c) Active Benefits: Free Shopping Vouchers

Get rewarded every week through Active Benefits and earn up to $260 in rewards per year. We all need a little extra motivation sometimes to get up and active and that's what AIA Vitality Active Benefits is all about! When you reach your personalised physical activity target each week, you get the choice from the following rewards
5 Airpoints Dollars – loaded onto your Airpoints account;
5 New World Dollars loaded onto your New World Clubcard;
$5 HOYTS voucher;
$5 Harvey Norman voucher;
$5 iTunes voucher;
$5 donation to the Mental Health Foundation of New Zealand; or
$5 donation to the Heart Foundation.
New Partners as of 8 June 2021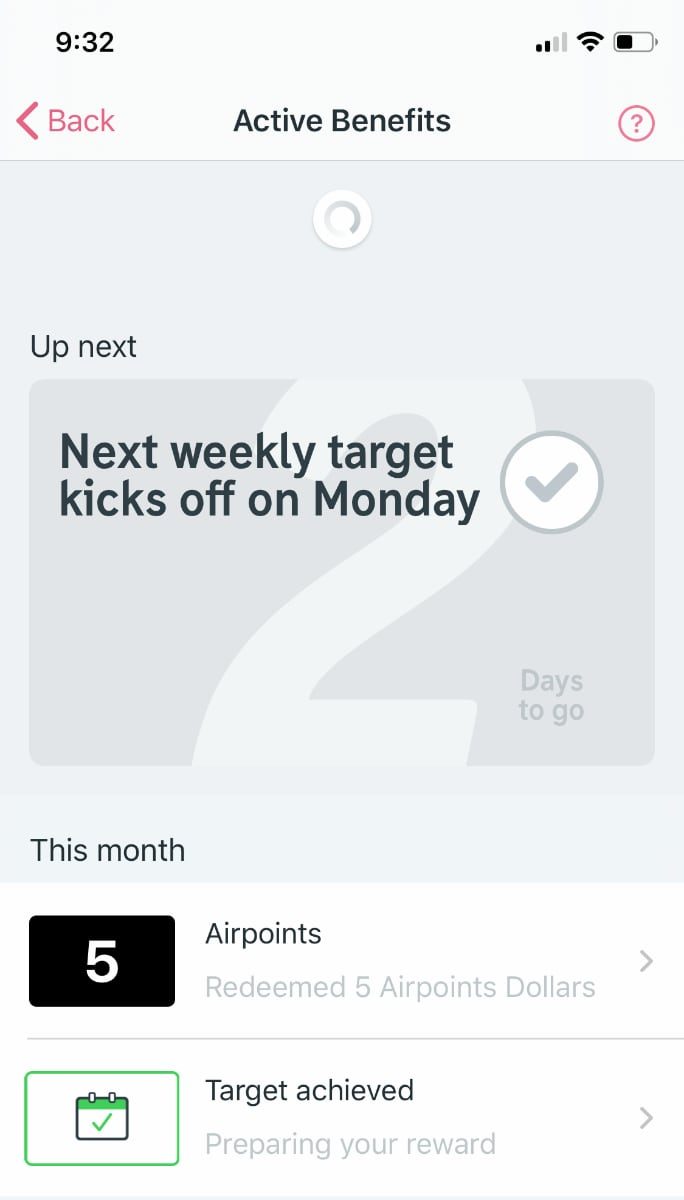 You can access the discounts via your membership login.
Earn up to 50% discount with Forme Spa & Wellbeing vouchers (max 4 vouchers per membership year).
Save up to 25% off Fitbit devices.
Enjoy 25% off Garmin devices.
Get a discount of up to 50% off HOYTS movie tickets (maximum of 6 tickets per calendar month)
6. The AIA Vitality Philosophy
The core principles behind the AIA Vitality program is the realisation that 60% of all preventable death in the world is due to 4 lifestyle choices, namely:
Physical inactivity
Unhealthy diet
Smoking
Excessive alcohol
which leads to 4 chronic conditions
Cardiovascular disease
Cancer
Respiratory Disease
Diabetes
7. March Promotion - 30% Cash Reward
LifeCovered pays you a 30% Cash Reward if you take out an AIA Vitality policy through LifeCovered. Offer valid through to end of March 2022.
Your Cash Reward will be credited to your bank account when the policy has been issued.
An example:
If you are paying $100 per month in insurance premiums, your Cash Reward will be $240. The calculation is as follows: $100 × 12 months × 20% = $240
We're thrilled to introduce you to the brand new AIA Vitality Apple Watch Benefit giving AIA Vitality members the opportunity to earn an Apple Watch Series 7 GPS, 40mm in full for reaching their weekly physical activity targets.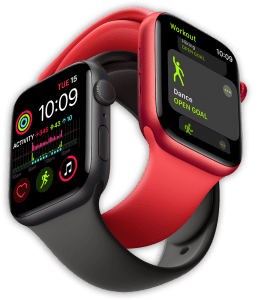 AIA Insurance rewards you Airpoints Dollars™.
Eligible AIA customers can earn 1x Airpoints Dollar™ for every $100 premium paid on new eligible policies.
9. AIA Vitality ambassadors
Introducing Ian Jones, AIA Vitality ambassador: Ian is a former rugby union player and played 79 test caps for All Blacks.
Introducing Jess Quinn, AIA Vitality ambassador: Since losing her right leg to cancer at the age of 9, Jess has refused to let that stand in her way of living life to its fullest with a core passion for helping others overcome their physical and mental setbacks along the way.
Introducing Dame Valerie Adams, AIA Vitality ambassador: Valerie is a New Zealand shot-putter, she is a four-time World champion, four-time World Indoor champion, two-time Olympic and has won several other awards as well.
10. The Global Vitality Network
With over 17 million Vitality members in 18 countries enjoying thousands of rewards, you can be part of the Vitality family and community on your journey to a healthier you and a safer way of life.
Vitality goes back almost 2 decades, when Discovery Limited, South Africa was established as a small specialist health insurer with the mission to make people healthier.
John Hancock Vitality - North America
The Vitality Group, United States was launched in 2008 and has since been widely credited with pioneering a global wellness movement to incentivize changes for healthier lifestyles
Vitality - United Kingdom
Was launched in the UK in 2007 and is marketed simply as Vitality.
Currently has more than 1 million customers and is 100% owned by Discovery Limited South Africa.
Has now expanded to include, but not limited to, the following:
Health Insurance
Life Insurance
Investments
Launched in 1992 by Adrian Gore, the Discovery group of companies has more than 5.1 million customers.
Discovery Limited initially started as a small specialist health insurer and has expanded since to include, but not limited to, the following:
Discovery Life
Discovery Health
Discovery Vitality
Discovery Life Collective Investments
Discovery Life Investment Services
Discovery Insure
Launched in 2014 as AIA Vitality, a partnership between AIA and Discovery
11. Frequently Asked Questions
Find the Best Life Insurance Plan for You
Get free quotes and compare life insurance policies online
AIA Vitality
30% Cash Reward
+
Airpoints $
Take steps to a healthier you today.