Compare Life Insurance Quotes
Life insurance helps protect your loved ones if the unexpected happens. Start comparing options from our partners today.
Life insurance is a contract between an insurer and a policyholder. A life insurance policy guarantees the insurer pays a tax-free sum of money to named beneficiaries when the insured dies or becomes terminally ill, in exchange for regular premium payments made by the policyholder.
Life insurance helps give your family financial protection should you pass away within the policy term by paying a tax-free lump sum to your family – helping your loved ones maintain their living standard or pay the mortgage.
And if you are diagnosed terminally ill with less than 12 months life expectancy, the tax-free benefit is paid to you.
It's up to you how much cover you want. Our life insurance advisors can help you figure out how much you need. The cost of life insurance you buy as an individual depends on your age, gender, health, medical history and lifestyle.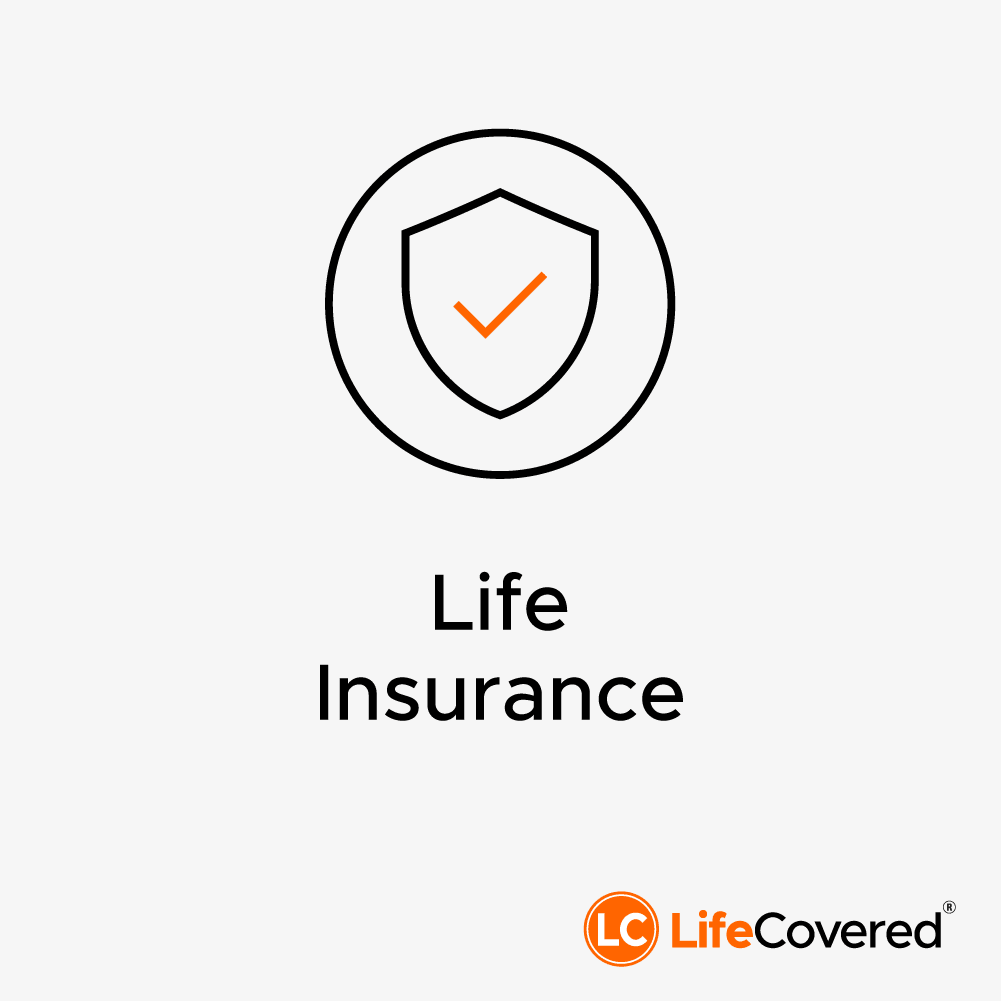 What are the benefits of life insurance?
It helps protect your family's finances
Life Insurance helps protect your family's finances
Life insurance will provide your family with financial resources in the event of your untimely death and will pay your beneficiaries money to ensure they can continue to be financially supported.
Premiums that don't increase with age
Tax free one-off benefit
Family Protection
How does life insurance work?
Life insurance can help protect your family financially with a tax-free payout if you die or if you are diagnosed with a terminal illness (expected to live less than 12 months), you'll get the one-off lump sum.
Your family circumstances are different and unique but a life insurance payout could improve your family lifetime cash flow significantly and could helpful towards:
Reduce or pay off the mortgage
Finance Secondary school fees
Pay funeral expenses
Cover your salary
Help with health and living costs if you become terminally ill
Childcare costs
Family holiday
Do you need life insurance?
Take the time to consider how much money your loved ones might need to maintain their living standards if you were to pass away. This might include costs such as bills, mortgage repayments, school fees and any other debts you might need to repay.
How long do I need cover for?
When it comes to how long you need cover for, think about how long your kids will need financial support, or when your other half might retire.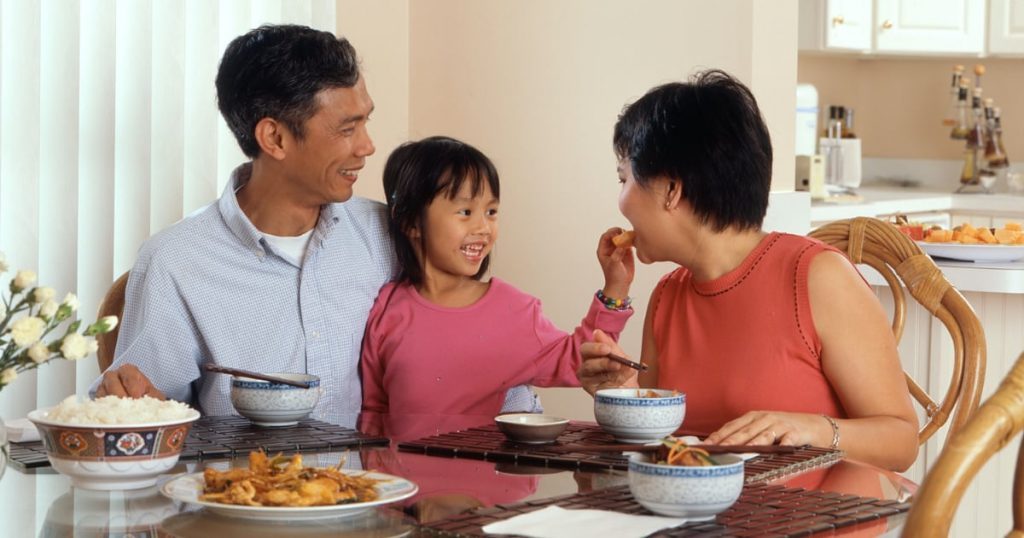 What does life insurance cover
Tax-free one-off payment
There is no tax in New Zealand on Life insurance and therefore any benefit payout is tax-free. 
Top Financial Strength
All our life insurance partners have the highest financial credit strength, which speaks about the ability to pay claims now and in the future.
Worldwide Cover
Policies provide you with worldwide cover, 24 hours a day.
Guarantee Policy Upgrade
Your policy will benefit from future benefit enhancements automatically. And when circumstances change and time to claim, you claim will be assessed on the most favourable policy wording
What does life insurance not cover?
Suicide and self-inflicted injuries in the first year
If within the 13 months of the policy being issued you die as a result of suicide or intentional and serious self-injury, you are not covered.
Not paying your premiums
Policies that have lapsed and cancelled have no cover.
Hazardous Activities and Pursuits
Some hazardous activities and pursuits are uninsurable.
Key Life Insurance Features
The Life Insurance Policy
A Life Insurance policy is a contract between an Insurance Company and you (the policy owner). It's an agreement that, in the event of your death, the Insurance Company will pay the sum insured to your loved ones (or to you, if you are terminally ill and expected to die within 12 months). Your cover is fully tailored and takes into account your age, medical history and personal lifestyle.
A customised insurance policy is necessary to ensure the financial stability of your loved ones, in the event that a tragedy occurs.
Life insurance can be a long-term purchase and in the long run you want a company that actually meets its contractual obligations (i.e. pays claims).
At LifeCovered, we work with the best companies in New Zealand. As a result, we exclusively recommend those with a financial strength rating of A- or higher (as rated by independent ratings agencies such as A.M. Best).
Why? In short, the companies we recommend have the strongest credit ratings and they pay claims. As well as that, they also offer seamless conversion from rate for age to level. During 2019, the best life insurance companies in NZ paid out more than $800M in claims combined.
Different types of life insurance
There are mainly two life insurance types you can choose from: Rate for Age and Level – both without any cash value.
Whole of Life and Endowment is not available in New Zealand anymore, although there are many existing contracts in-force.
Yearly Renewable Term
Annual (or yearly) renewable term is a one-year policy, but the insurance company guarantees it will renew the policy on each anniversary up until an agreed age, regardless of the health of the insured person, and with a premium set for the applicant's age at that time.
Level Term
Hybrid
Family Protection
Level and Stepped Premiums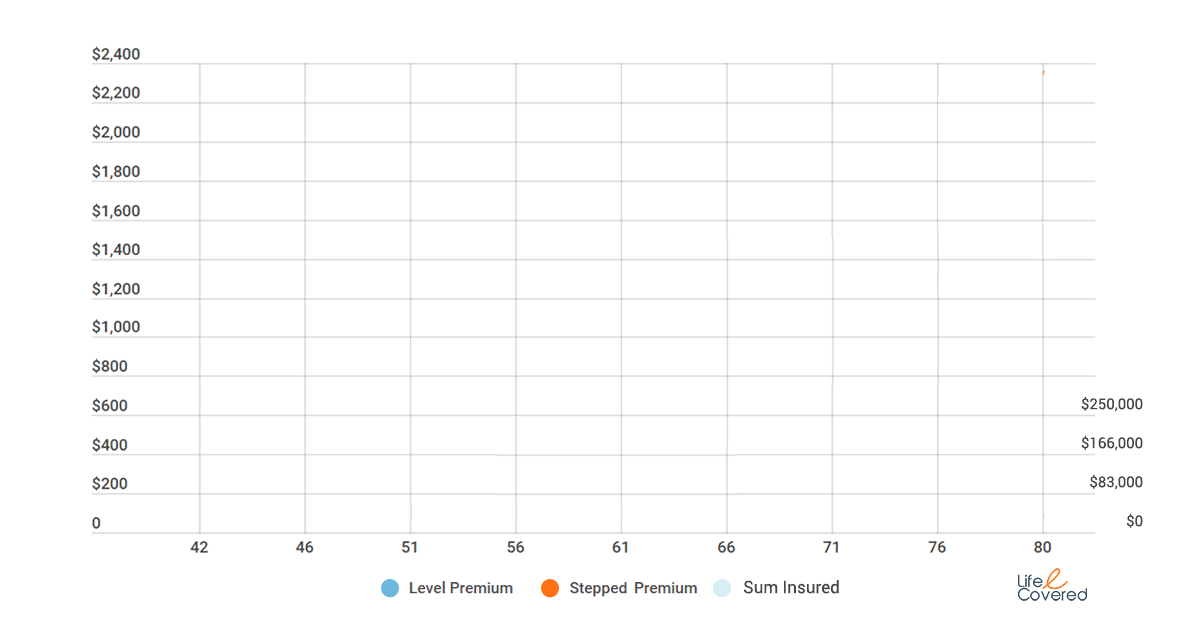 Compare Life Insurance Quotes
Despite our preconceptions, sorting out life insurance isn't actually that hard to do (especially when you can do it all online!). Check out this comprehensive benefit life insurance comparison.
How much does life insurance cost?
There are a number of factors that contribute to the price of your life cover policy. Understanding this can help make the application process smoother and ensure you make the best decision, both in value for money and protection for your family.
Some of the factors that determine the life insurance policy cost:
Gender
Health
Age
Your hobbies/lifestyle
The type of cover (rate for age vs level), as well as term length and the coverage amount.
A level premium cover is budget-friendly with premiums that don't increase. See the graph below comparing fixed quotes for a healthy non-smoker male, at age 40 until age 80.
How to buy life insurance?
Your employer might offer you to become part of their group life insurance at discounted rates or as an employee benefit.  This would be a great place to start, because generally you would be accepted without any underwriting.
Otherwise, you can work with a financial professional who can guide you through the options that will fit your immediate needs and long-term goals.
How much do you need?
How much life insurance do you need?
Experts suggest 10-12 times your annual income as life insurance.
How much life insurance you need depends on personal and financial circumstances, but you do need enough to replace your income and cover your dependents' current and future expenses.
Our life insurance experts can help you put a plan together – naturally free of charge.
Financial modelling
Common mistakes to avoid
Selecting a leading life insurance company
Get a life insurance quote
Want to know your life insurance options?
Connect with one of our life insurance specialist, who can help you decide.
Need help with life insurance?
Life Insurance: Get the answers you are looking for.
Life Insurance: Get the answers you are looking for
TESTIMONIAL
Family protection paid the mortgage and a legacy
Unexpected events can easily break the bank – it's best to have a backup plan. 
Key Documents - please read
Please read before you apply
Life Insurance Policy Wording
The life cover policies for AIA Insurance, Asteron Life, Fidelity Life and Partners Life are included here. 
1) The AIA Living Umbrella wording is common to all AIA Living policies.
2) Asteron Life has all it's personal insurance policy in one document.
Compare life insurance quotes from New Zealand's leading life insurers