Life insurance helps protect your loved ones if the unexpected happens. Start comparing options from our partners today.
Compare Life Insurance Quotes Online
Life insurance is a contract between an insurer and a policyholder. A life insurance policy guarantees the insurer pays a tax-free sum of money to named beneficiaries when the insured dies or becomes terminally ill, in exchange for regular premium payments made by the policyholder.
Life insurance helps give your family financial protection should you pass away within the policy term by paying a tax-free lump sum to your family – helping your loved ones maintain their living standard or pay the mortgage.
And if you are diagnosed terminally ill with less than 12 months life expectancy, the tax-free benefit is paid to you.
Our financial advisors can help you figure out how much you need. The cost of a life cover policy you buy as an individual depends on your age, gender, health, medical history and lifestyle.
How much life cover do I need?
You've worked hard to provide for your family and build wealth, so it is important you and your family are protected when life's unexpected events occur.
This is where insurance planning and risk management come into play as a critical part of your financial plan to ensure you're not overinsured or underinsured.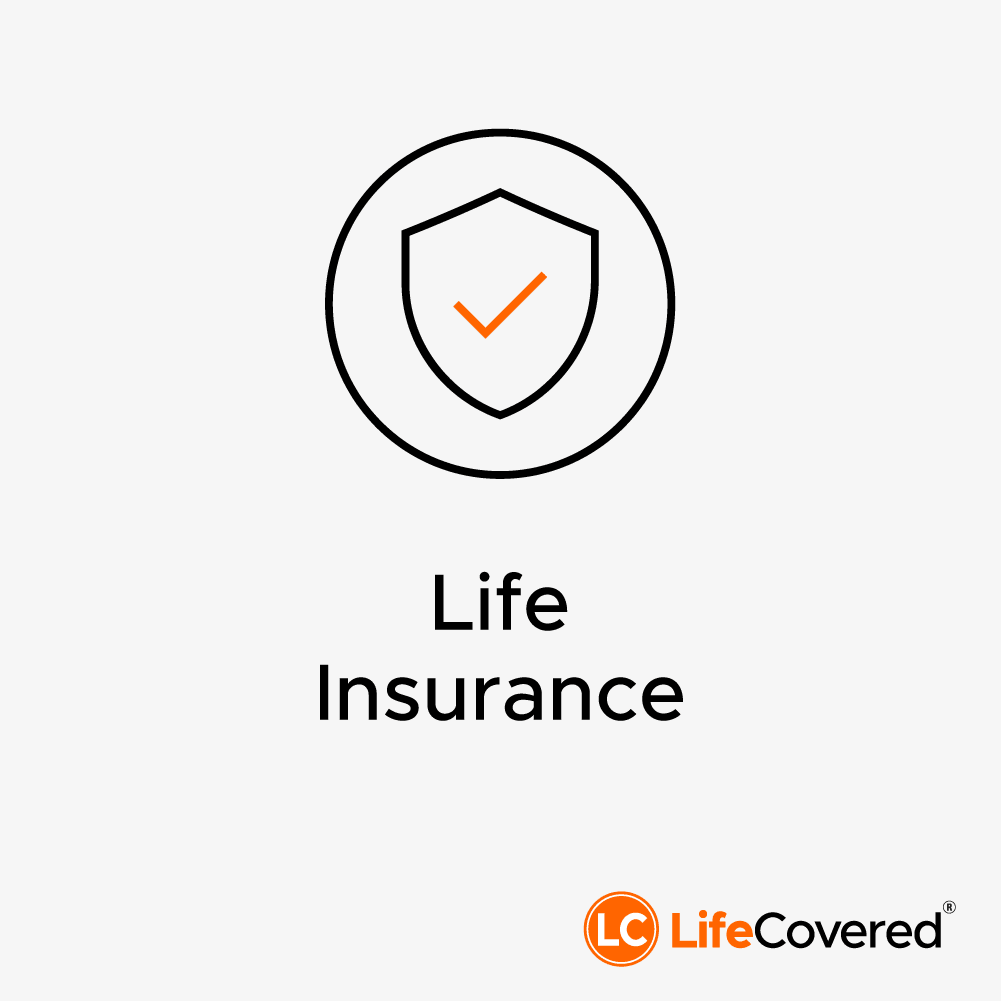 The best way to figure out how much life cover you need is as part of a larger financial plan.
Our financial advisors can help you see gaps and strengths in your current financial situation and where you are headed.
We use a tool that helps you visualise and organise your financial life, so you can see and understand your financial picture like never before.
As we create your financial picture, you will have clarity and confidence about how much life cover you need. Because we look at your cash flow, debt management, retirements savings, potential property investment opportunities and what is acceptable risk to you.
Your thoughts on the best policy amount and type of policy could change considerably after seeing where life insurance will fit into the big picture for you and your family.
How does life insurance work?
Life insurance can help protect your family financially with a tax-free payout if you die or if you are diagnosed with a terminal illness (expected to live less than 12 months), you'll get the one-off lump sum.
Your family circumstances are different and unique but a life cover payout could improve your family cash flow significantly and help towards:
Reduce or pay off the mortgage
Finance Secondary school fees
Pay funeral expenses
Cover your salary
Help with health and living costs if you become terminally ill
Childcare costs
Family holiday
In short, life cover can be used as wealth and asset protection.
Get Life Insurance advice
Is it time to review your life insurance?
What does life insurance cover
Tax-free one-off payment
There is no tax in New Zealand on Life insurance and therefore any benefit payout is tax-free.
Top Financial Strength
We only compare New Zealand's leading life insurers with the highest financial credit strength, which speaks about the ability to pay claims now and in the future.
Worldwide Cover
Policies provide you with worldwide cover, 24 hours a day.
Guarantee Policy Upgrade
Your policy will benefit from future benefit enhancements automatically. And when circumstances change and time to claim, you claim will be assessed on the most favourable policy wording
What does life insurance not cover?
Suicide and self-inflicted injuries in the first year
If within the 13 months of the policy being issued you die as a result of suicide or intentional and serious self-injury, you are not covered.
Not paying your premiums
Policies that have lapsed and cancelled have no cover.
Hazardous Activities and Pursuits
Some hazardous activities and pursuits are uninsurable.
If you are diagnosed with a terminal illness with a life expectancy of fewer than 12 months, the Life Cover benefit is paid early in a cash sum.
Enables you to increase the sum assured under your cover following a significant event in your life which results in increasing financial responsibilities. These significant events include: having a child, your child starting secondary school, taking out or increasing a residential home loan or receiving a salary increase and other major events covered.
Sometimes called Critical Illness Cover (includes about 50 different illnesses and treatments), can be added to the life cover at an extra cost when you take out your life insurance policy.
The Life Insurance Policy
A Life Insurance policy is a contract between an Insurance Company and you (the policy owner). It's an agreement that, in the event of your death, the Insurance Company will pay the sum insured to your loved ones (or to you, if you are terminally ill and expected to die within 12 months). Your cover is fully tailored and takes into account your age, medical history and personal lifestyle.
A customised insurance policy is necessary to ensure the financial stability of your loved ones, in the event that a tragedy occurs.
How to find the best insurance policy
We exclusively compare and recommend the leading life insurers in New Zealand, based on the following criteria:
the highest credit rating: speaks about the financial abilities and liquidity to pay your claims.
Claims culture and underwriting:
Increasing premiums and fixed premiums:
Automatic Policy Upgrading:
Riders or optional extras:
Why?
Life insurance can be a long-term purchase and you'd want a company that has the strongest financial rating to pay claims.
During 2019, the best life insurance companies in NZ paid out more than $800M in claims combined.
There are mainly two life insurance types you can choose from: Rate for Age and Level – both without any cash value.
Whole of Life and Endowment is not available in New Zealand anymore, although there are many existing contracts in force.
Annual (or yearly) renewable term is a one-year policy, but the insurance company guarantees it will renew the policy on each anniversary up until an agreed age, regardless of the health of the insured person, and with a premium set for the applicant's age at that time.
Level (fixed) term life insurance is a multi-year policy, where the premiums are fixed at the start and stay the same for the agreed period. Most commonly fixed premiums until age 65, 70 or 80.
The insurer guarantees the premiums and cover amount don't increase. You can select to index link a policy. Indexation is an automatic increase to the amount of insurance cover you have, to make sure the value of your cover is not eroded by the impacts of inflation.
When the time period comes to an end, most insurers convert your policy to Rate for Age.
Level and Stepped Premiums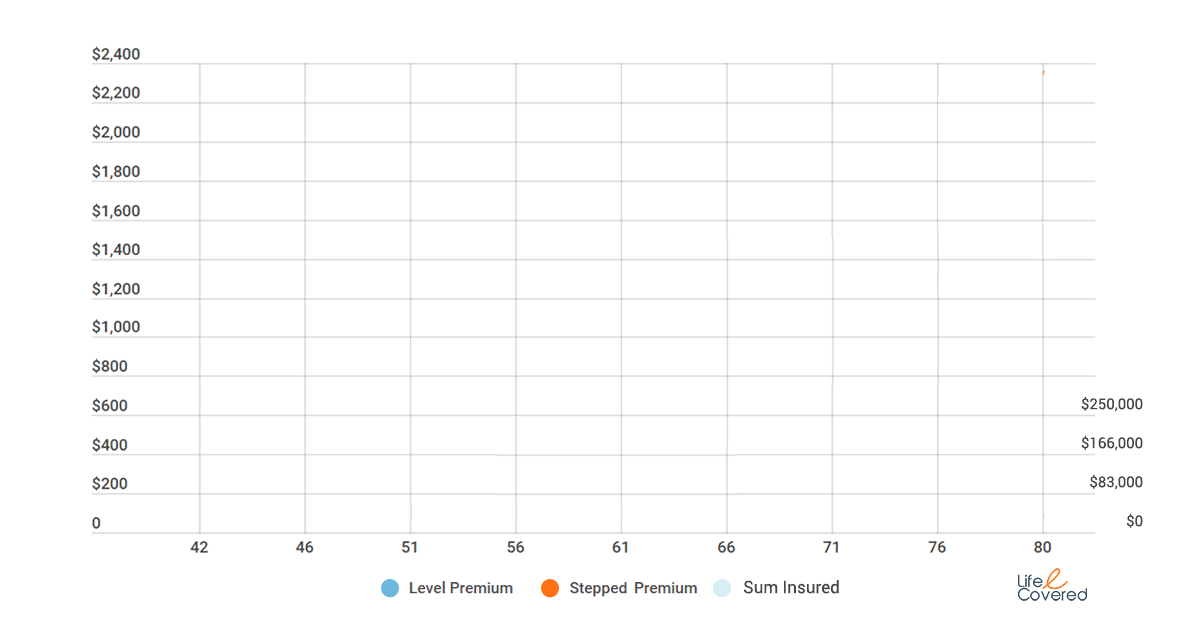 How much does life insurance cost?
There are a number of factors that contribute to the price of your life cover policy. Understanding this can help make the application process smoother and ensure you make the best decision, both in value for money and protection for your family.
Some of the factors that determine the life insurance policy cost:
Gender
Health
Age
Your hobbies/lifestyle
The type of cover (rate for age vs level), as well as term length and the coverage amount.
A level premium cover is budget-friendly with premiums that don't increase. See the graph below comparing fixed quotes for a healthy non-smoker male, at age 40 until age 80.
How to buy life insurance?
Your employer might offer you to become part of their group life insurance at discounted rates or as an employee benefit.
This would be a great place to start because generally you would be accepted without any underwriting.
Otherwise, you can work with a financial professional who can guide you through the options that will fit your immediate needs and long-term goals.
Similar Life Insurance Benefits
Helps protect you if you become critically ill during the policy term and pays out a tax-free lump sum that you can use however you like.
Overnight care, outpatient treatment, diagnostic tests, scans or aftercare, you get specialist private treatment you need, in comfortable surroundings, when you need it
Help support you with a monthly payment if you're ill or injured and can't work and pays a proportion of your lost earnings. So you're able to focus more on getting better and back to work.
Helps support you with a monthly payment if can't work due to illness or injury and pays an agreed amount related to your mortgage, rent or income. So you can have peace of mind.
Life Insurance: Get the answers you are looking for.
Key Documents - please read
Please read before you apply
Life Insurance Policy Wording
The life cover policies for AIA Insurance, Asteron Life, Fidelity Life and Partners Life are included here.
1) The AIA Living Umbrella wording is common to all AIA Living policies.
2) Asteron Life has all it's personal insurance policy in one document.
Compare life insurance quotes from New Zealand's leading life insurers