Life insurance helps protect your loved ones if the unexpected happens.
Have you got yours sorted?
Life insurance is an insurance policy that can lessen the financial shock your terminal illness or death would have on you and your loved ones. The policy guarantees a tax-free payout to you if you're diagnosed terminally ill and expected to live less than 12 months, or to the ones you love and care for if you die.
When can I get life insurance?
Life Insurance provides your loved ones with important financial support when they need it the most. Here's an overview of the minimum and maximum ages you can sign up for a life insurance policy.
| | Asteron Life | AIA Insurance | Fidelity Life | Partners Life |
| --- | --- | --- | --- | --- |
| Minimum Entry Age | 11 | 16 | 16 | 10 |
| Maximum Entry Age | 75 | 70 | 75 | 70 |
How does life insurance work?
Your family will get a tax-free payout if you die and if you are diagnosed with a terminal illness (expected to live less than 12 months), you'll get the payout. Your family circumstances are different and unique but a life insurance policy payout could help be helpful for:
Reduce or pay off the mortgage
Finance Secondary school fees
Cover your salary
Help with health and living costs if you become terminally ill
Childcare costs
Family holiday
- Do you need life insurance?
Do you worry about how much money your family would need to maintain their lifestyle if you are not around anymore? How would they pay the monthly bills, the mortgage repayments, school fees and other expenses that you'd normally pay?
- How long do I need cover for?
Sometimes the reply to the question is I want cover until I die. Right?
How long you need cover for is related to who is dependent on you. How long will your children need your financial support? And how about your spouse or partner, when do they want to retire? Another big question is, when is your mortgage paid off?
Most common life insurance claims in 2018
During 2018, Asteron Life paid more than $56 million in Life Cover claims to Kiwi's.
26% of LifeCover claims  were for women
The youngest person to claim was 28 years old and the oldest was 106.
44% of the Terminal Illness claims were for women. 
Source: Asteron Life Claims – claims in percentages. 
The Life Insurance Policy
A Life Insurance policy is a contract between a policy provider (the Insurance Company) and you (the policy owner). It's an agreement that, in the event of your death, the Insurance Company will pay the sum insured to your loved ones (or to you, if you are terminally ill and expected to die within 12 months). Your policy is fully tailored and takes into account your age, medical history and personal lifestyle.
A customised insurance policy is necessary to ensure the financial stability of your loved ones, in the event that a tragedy occurs.
Life insurance can be a long-term purchase and in the long run you want a company that actually meets its contractual obligations (i.e. pays claims).
At LifeCovered, we work with the best companies in New Zealand. As a result, we exclusively recommend those with a financial strength rating of A- or higher (as rated by independent ratings agencies such as A.M. Best).
Why? In short, the companies we recommend have the strongest credit ratings and they pay claims. As well as that, they also offer seamless conversion from rate for age to level. During 2019, the best life insurance companies in NZ paid out more than $800M in claims combined.
A claim is the term used for when a beneficiary of a Life Insurance policy requests payment of that policy. Generally, a claim is made on a life insurance policy, when the insured person passes away. However, in some cases it is possible to make an advance claim if the insured person is diagnosed with a terminal illness.
When it comes to claiming on a Life Insurance Policy we at LifeCovered do our best to ensure that the process runs as smoothly and efficiently as possible. We understand that making a claim on a Life Insurance policy, whether it be in the case of death, terminal illness diagnoses or critical illness, can be a very difficult time. 
Our staff are trained to offer compassion and support whilst also doing their best to get your claim assessed and paid out, as soon as possible, but we will need the family/estate claiming to provide the required documentation in order to assess the claim.
The 3-Step Life Insurance Claims Process
Making a claim is a distressing time for loved ones. Our claims staff have experience and specialty training and respond with care and understanding. Email claims@lifecovered.nz for assistance or call us on 0800 25 99 25.
Step 2 - Expert Assessment
Our claims experts will deal with the claim quickly, communicating clearly with your loved ones throughout the process. They'll contact them if they need anything (i.e. a claim form or death certificate).
Usually within 48 hours, a bereavement or funeral benefit between $15K to $25K is paid. Once the claim is approved, the insurer will pay a tax-free lump sum directly to your loved ones or your estate.
Life Cover in New Zealand
Key benefits vary slightly from each insurer. Generally speaking these are the main benefits.


Receive an upfront payment of $10.000 $15,000 to help with immediate expenses like funeral costs
Reimbursement for the costs (up to $20,000) of returning the life assured's body to New Zealand if they die while overseas
Access to an early payment if you're diagnosed as terminally ill
Compare Life Insurance Quotes
Despite our preconceptions, sorting out life insurance isn't actually that hard to do (especially when you can do it all online!). Check out this comprehensive benefit life insurance comparison.
| wdt_ID | Company | Claims paid 2018 | Free Lock | Funeral Grant | Free Kids Cover | Premium Holiday |
| --- | --- | --- | --- | --- | --- | --- |
| 19 | Asteron Life | $121.5M | 17 Days | $15.000 | $50.000 | Max 6 months |
| 21 | Fidelity Life | $125.7M | 14 Days | $15.000 | Optional | Max 12 months |
| 22 | AIA | $634.1M | 15 Days | $15.000 | Optional | |
| 23 | Partners Life | $125.6M | 30 Days | $15.000 | | Max 6 months |
| 24 | OnePath | unknown | 30 Days | $25.000 | | |
How much does life insurance cost?
There are a number of factors that contribute to the price of your life cover policy. Understanding this can help make the application process smoother and ensure you make the best decision, both in value for money and protection for your family. 
Some of the factors that determine the life insurance policy cost:
Gender

Health

Age

Your hobbies/lifestyle 

The type of policy (rate for age vs level), as well as term length and coverage amount.
A level premiums policy is budget friendly with premiums that don't increase with age. See the graph below comparing fixed quotes for a healthy non-smoker male, at age 40 until age 80.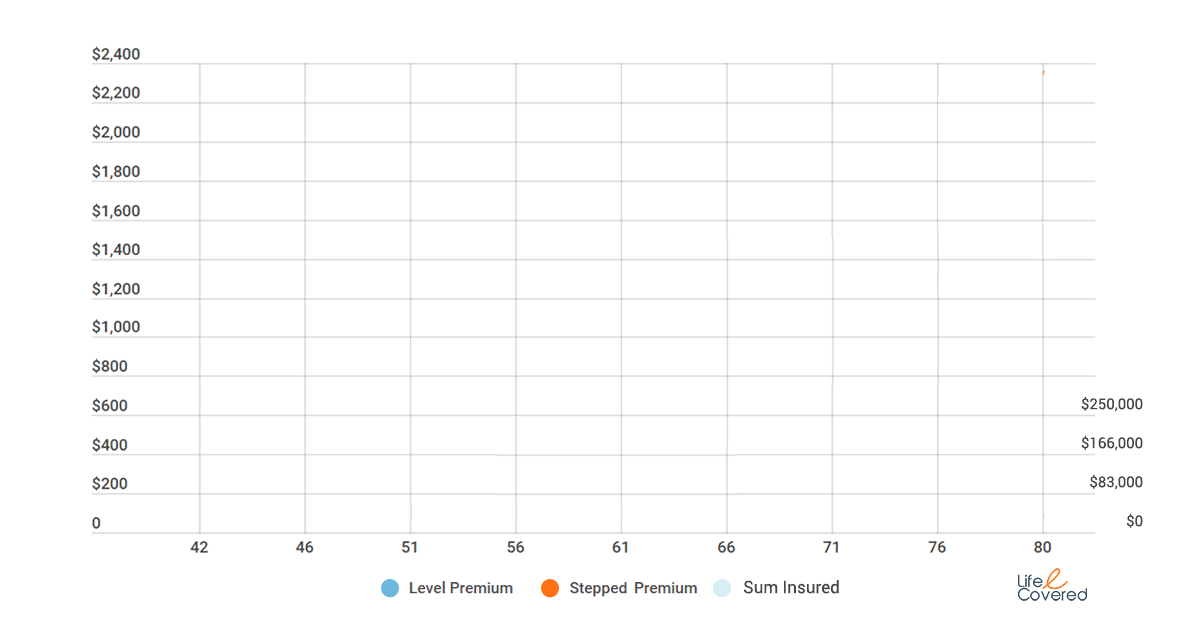 Rate for age vs level premium.
Level premium covers a period of time, such as 10, 20 or 30 years and premiums don't increase with age. If you die or become terminally ill in this period, your family will receive the payout. When the period comes to an end, most insurers convert your policy to Rate for Age.
Rate for age also called stepped has no expiry, but premiums increase with age and costs less than level premium to start with.
Hybrid: level premiums and rate for age. A combination of both can premium structures can sometimes be smart – talk with your broker to structure the best cost-effective insurance policy.
Generally speaking, level premium cost more to start with compared with rate for age insurance. At LifeCovered we recommend rate for age mainly for short term cover because cost increases, and especially so during the 40's, 50's etc.
Compare level premium vs rate for age.
Just real human help from start to finish.
Instant Online Quotes
Compare leading NZ leading life insurance companies.
No Fee's
We'll negotiate the best deal, handle the paperwork – for free.
Expert Advice
We're here to help, not pressure or hassle you.
Our team of expert advisors are available to offer you advice when you need it.
0800 25 99 25
Call free within New Zealand
How to buy life insurance
Life cover isn't a buy you make often, so perhaps you might need to know where to start or how to get life a quote. In New Zealand there are mainly two ways.
1. Life insurance directly from an insurer
Buying directly with an insurer can be appealing for some that know what they want and like the idea of having a straightforward life insurance policy in place to protect their family and assets, should the worst happen.
The main disadvantage is that, as you are not receiving professional advice, you may not be sure what type of life insurance would best suit your needs.
2. Life insurance through a financial advisor
Buying life insurance through a financial advisor or a broker, means comparing the best deal and policy in the market for you.
This approach enables you to receive professional financial advice about what insurance will best suit your needs. Receiving advice doesn't have to be time consuming – you can apply over the phone if you want to and is free.
How much life insurance do I really need?
The amount of insurance you need depends on your family's needs and priorities.
Sometimes, the best way to figure out how much insurance you need is asking the question, what would happen if you died tonight?
Will your family need to replace your income to meet everyday living expenses?
Do you have any debts?
Debt and income replacement calculators can help you decide how much coverage you need before you get a quote. Often the rule of thumb we use is 8-12 times your annual income. 
And what if the cost is more than your budget? 
Would it be better with some cover that you can afford to pay then none?
Who needs life insurance?
LifeCovered recommends life insurance for anyone who has loved ones who depend on them financially. Including parents, (joint) homeowners with a mortgage, business owners and others.
Please read before you apply
Life Insurance Policy Wording
The life cover policies for AIA Insurance, Asteron Life, Fidelity Life and Partners Life are included here. 
1) The AIA Living Umbrella wording is common to all AIA Living policies.
2) Asteron Life has all it's personal insurance policy in one document.