Tradies Income Protection Insurance
Protecting your income is vital for any tradie, especially if you're self-employed.
Tradies Income Protection Insurance is something that every working adult, but especially those who are self-employed, should think about.
Suppose you're a builder, an electrician, a plumber, or any other type of tradesperson. In that case, there are a few things you should think about before investing in loss of income protection insurance.
First, knowing which types of insurance work well with ACC is essential. Second, ACC-related claims offset the majority of claims for personal income protection.
Your insurer might not be required to compensate you if an accident or injury keeps you from working, and ACC covers 80% (or some of) your gross income. Thankfully, if you follow sound insurance advice, you can prevent this situation.
Why do tradies need income protection?
Anyone who relies on their income to pay the bills, which pretty much all of us do, should consider income protection. For tradies, it may be even more crucial. Here's why:
You must be in good physical shape to perform your job.
It's unlikely that an office worker who breaks their leg playing soccer on a Saturday will have to miss much time from work. However, tradies can't just walk away like that. Any injury will keep you out of work, and if you return too soon, you risk making it worse. You can take the necessary time off thanks to income protection.
Sickness or Accidents.
Unlike ACC's weekly compensation, income protection protects you during illness and accidents. Even though you probably do most of your heavy lifting at work, accidents can occur anywhere. Wherever you are, even abroad, income protection can take care of any diseases or injuries you may have.
How does trades income protection insurance work?
If you work as a tradesperson, you are fully aware of the risks involved. For example, suppose you become ill or injured and cannot work. In that case, income protection insurance for tradespeople is intended to replace up to 75% of your income. Unlike ACC's weekly compensation, it covers whether you are sick, injured or have had an accident.
Depending on the policy you choose, income protection pays you a monthly benefit once your claim has been approved, either until you are healthy and able to return to work until your benefit period ends (you can choose when this happens) or until you reach a certain age (typically between 65 and 70 years old).
I have ACC Cover Plus. Why isn't that enough?
There's a good reason why it's called the Accident Compensation Corporation. ACC covers accidents, not illnesses.
Everyone is covered by ACC, whether self-employed or PAYE workers.
According to ACC, the difference between these two groups is the fixed paycheck versus fluctuating income.
Regardless of which group you fall into, ACC will pay up to 80 per cent of your taxable income based on the most recently completed financial year. So, for example, if you're a tradesperson, you might have brought in $95,000 in one hectic year but only $65,000 in the next.
If you got injured in the $65,000 year instead of the $95,000 year, you would receive $24,000 less from ACC.
There's also the question of what kind of cover you get as a self-employed person. For example, ACC has CoverPlus Extra, which allows you to choose how much of your income is covered if you've had an accident and can't work.
Tradies Income Protection Key Points
Pays a monthly benefit for 2 or 5 years or until retirement.
Accident and sickness cover
Pays additional to any ACC benefits
Rehabilitation & retraining support
Specialist cover available for high earners
Ideal for employed and self-employed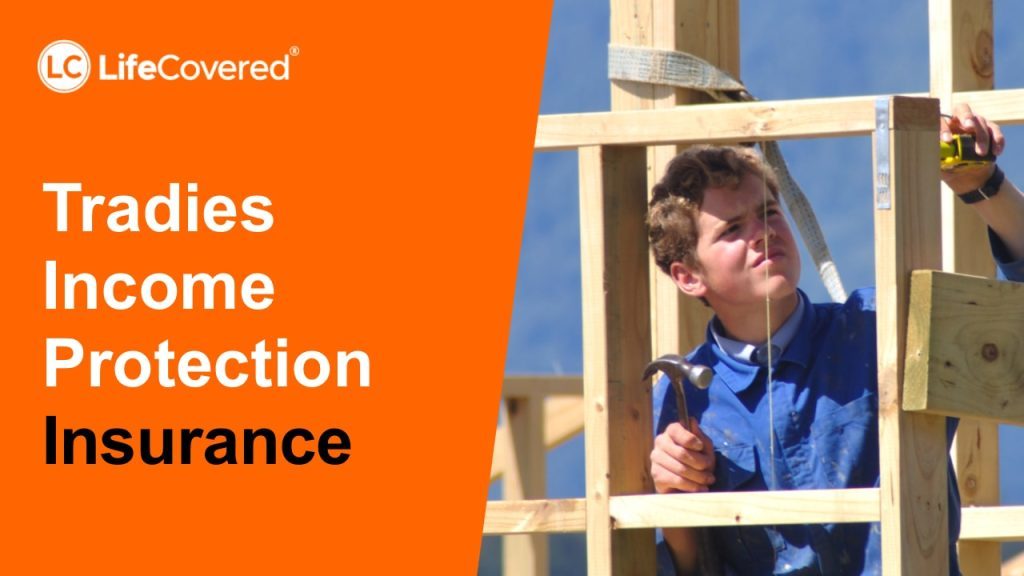 As a tradie, what should I look for in income protection insurance?
There are two key things to look out for when you're looking for your income protection insurance:
One that pays additional to any ACC benefits you may receive; and
Eliminate the possibility of medical non-disclosure by providing full medical information when you apply for the policy, which assesses you for any pre-existing medical issues at the time of application rather than when you submit a claim.
Tradesman/Tradeswoman Income Protection
In New Zealand, almost all trades and related professions can have private income protection insurance.
While some tradespeople, including scaffolders and lineworkers, will have trouble receiving the highest level of coverage, the majority of typical tradespeople will have no trouble getting the same amount of coverage that would be available for any other white-collar manager.
It's crucial to work with a financial advisor or insurance broker who specialises in trade insurance when taking out income protection for a tradesperson.
An expert advisor will be aware of the companies and plans that will offer the coverage you need for both your personal needs and your line of work.
Frequently Asked Questions
The usual rule of thumb is that the cost of the policy may qualify as a tax deduction if the benefit you get at claim time is subject to tax. Please check with your accountant to clarify your specific circumstances.
Yes, contractors can purchase income protection insurance, possibly with some of the cost covered by a decrease in ACC levies.
Contractor income protection is a vital insurance policy for all self-employed contractors. It provides you and your family financial security if you cannot work. However, as a self-employed contractor, you do not automatically have any sickness insurance, which means you will lose income if you cannot work due to an accident, injury or illness.