The Apple Watch Benefit, by AIA Vitality, is for members that want to earn an Apple Watch Series 8* by tracking their activity and meeting their weekly fitness targets over 24 months.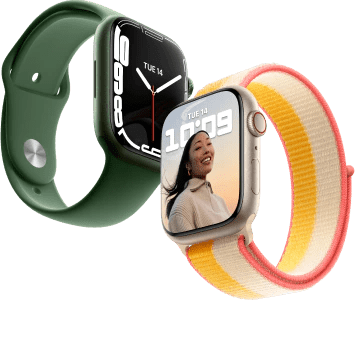 What is the Apple Watch Benefit?
You can soon get an Apple Watch Series 8 (GPS) and use your rewards to earn your SmartWatch in full by staying active and meeting your weekly Active Rewards target for 24 months.
For the weekly $5 Active Rewards Benefit, you can earn an Apple Watch Series 8.
The more you move, the less you'll pay.
The higher your AIA Vitality Status, the more rewards and discounts you can enjoy.
Update 8 September
AIA Vitality Apple Benefit is temporarily paused
Today, at their annual Global Event, Apple announced the exciting launch of the Apple Watch Series 8, which will be available in New Zealand later this year. As a result AIA Vitality have immediately paused the AIA Vitality Apple Watch Benefit from today, 8 September, while transition to the new product. We will update you when the benefit will be available again as soon as we have more information.
How can I get the Apple Watch Benefit?
Follow the instructions below to get your Apple Watch, just by being active!
Login to your AIA Vitality dashboard.
Simply:
Select the benefit from the AIA Vitality app dashboard and complete a credit check
Purchase the Apple Watch online from Apple Store using the Apple Store Gift Code provided
Get active and reach your weekly targets for 24 months and;
Your $5 Active Benefits rewards received each week will automatically be allocated to the repayment of the loan
| Targets met in a month | You earn | You pay |
| --- | --- | --- |
| 4 or 5 weekly targets | $0 | $27 |
| 3 | $12 | $15 |
| 2 | $17 | $10 |
| 1 | $27* | $0 |
*The last (24th) monthly payment will be billed at $28. AIA Vitality will cover the full $28 in the last month if all physical activity targets are met. You will be billed monthly, on the 17th of the following month.
Apple Watch Series 7 (GPS)
It's the most durable Apple Watch ever made, with an even more durable front crystal.
You can measure your blood oxygen levels, receive heart health notifications, and advanced access features of mindfulness and sleep tracking apps. You can also use your wrist to respond to calls and messages. In addition, your Apple Watch will track your activity and workouts to help you earn AIA Vitality Points.
This benefit is available to all AIA Vitality members who have New Zealand citizenship, permanent residence, or an acceptable work visa for New Zealand. Non-citizens and non-permanent residents (with a work visa in New Zealand) may still apply for the Apple Watch Benefit.
However, they may be required to provide additional information if etika (the finance company) requests it to complete the application. Please remember that this benefit is only available on the AIA Vitality app for iOS.
Your voucher code is intended to fully fund a $649 Apple Watch Series 7 GPS, 41mm. However, if you want to upgrade to a more expensive Apple Watch, you can pay the difference at checkout.