What is Continuation Option in Insurance and how to convert your policy?
You can take over your employer-provided insurance plan when you leave the employer.
Usually only available for 30 and 60 days after your last day of employment
One application form to convert your cover
No health questions asked
If you retire or quit your job, the continuation option allows you to continue the insurance coverage you obtained through your employer's group plan's automatic acceptance terms.
Pre-existing medical conditions developed before or during your employment can be covered.
The continuation option allows you to continue your workplace insurance policy without medical examinations, health questions, or medical evidence from your doctor or specialists.
Whatever your reason for quitting your job, you'll want to be sure you're still covered.
You get to take out an insurance policy directly with your employer's insurance provider up to the amount of coverage you had under your employer's plan.
Here's the thing, the continuation option is only available for a limited time.
The sooner you contact us, the sooner we can find a solution for you.
What is Continuation Option in insurance?
What is Continuation Option?
The continuation option is a group insurance policy benefit that allows members who resign or retire from an employer that provides workplace insurance to take their cover with them, regardless of their health status or without answering health questions.
The continuation option is only available when you have left your employment with your previous employer and must be exercised within 60 days from the date you stopped working for your last employer.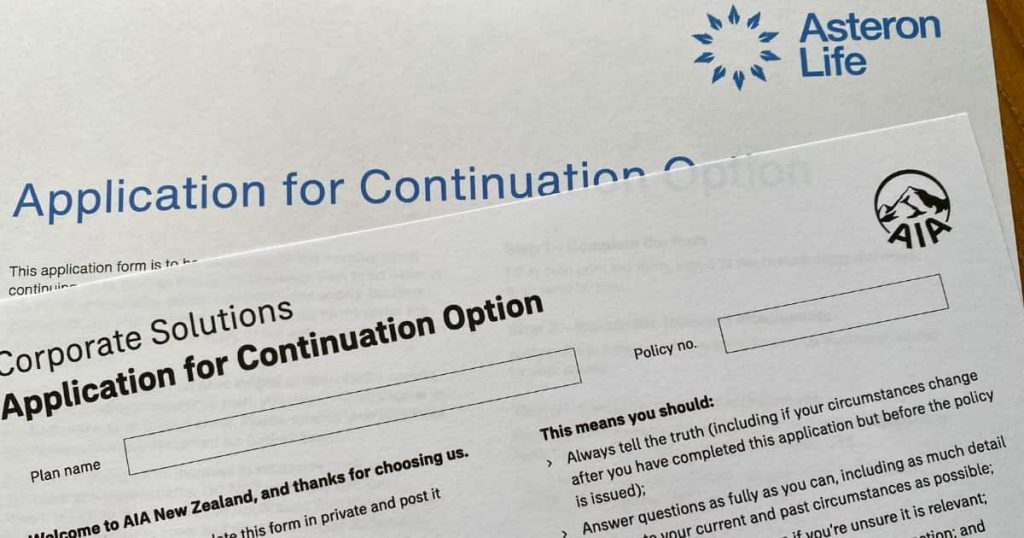 Benefits of Continuation Option
One of the biggest perks of group insurance is the option to continue your coverage privately. When staff members resign from an employer providing insurance coverage, they can take their coverage with them.
Eligible members can:
Maintain their valuable life, trauma, TPD, income protection and/or health cover wherever their career takes them (particularly important for members with health concerns or those otherwise unable to obtain coverage due to deteriorating health).
Continued coverage at no extra cost for up to 60 days after leaving their employer's group insurance plan allows them to consider their options.
No evidence of health needs to be submitted, meaning no medical tests or health questionnaires to complete.
How to continue your existing workplace insurance privately
To activate the process to convert your existing workplace insurance policy, please fill in the form here started.
Any medical condition you may have developed while enrolled in your employer's group plan will be covered when you exercise your continuation option.
Continuing your policy privately includes:
No health questions or exams
Level premiums with no rate increase as you age
Available as an option on all Group Insurance plans
You can take as much as you had under your Group Insurance plan
The continuation option is only available for a certain number of days after leaving employment. See the below table for your insurer's requirements.
How much will my continuation option cost me?
When activating your continuation option, the insurer uses the usual factors to determine your premiums, which are:
Gender,
Age,
Type and level of cover
Smoking or vaping preferences
We will provide you with a quote that details your insurance benefits and premiums.
Continuation Option FAQ's
You can apply to continue the same level of cover you have for Life, Total Permanent Disability, Trauma or Income Protection with the employer you are leaving. Any additional or new cover is also available but will be subject to full underwriting.
You are responsible for paying the premium for any cover you continue through the continuation option.
When can I use the continuation option?
Employees are eligible for the continuation option (regardless of their health status) if they apply within the stated time frame (listed in the certificate of insurance or policy), usually within 45 or 60 days after leaving employment.
Other conditions must also be met (as specified in the workplace insurance policy), including that no benefit has been paid or could be claimed for you under the policy, and that you are not living outside New Zealand after your plan membership has terminated.
Specific to income protection insurance, provided that you have not attained age 65, the policy can continue.
Similarly, life insurance can continue, provided you have not attained age 70.
Can I continue my health insurance after leaving a job?
Suppose you are leaving an employer health insurance group plan. In that case, you can qualify for a private health insurance plan with the same insurer and have pre-existing medical conditions covered.
To know more about your options and get your personal quote.