Is Trauma Insurance Worth It?
Yes, trauma insurance is worth it if you struggle financially due to a severe illness diagnosis because trauma insurance can replace your loss of income.
When buying insurance, you protect yourself and your family from the financial risk of something happening to you. And with trauma cover, it is the risk of being diagnosed with a critical illness or medical condition and the economic consequences that can come as a result of that.
The only thing better than hindsight is foresight. According to statistics from insurance companies, the average age of a New Zealander who suffers from a critical illness is about 48¹.
Is trauma insurance worth it? If you end up using it and if you value peace of mind.
However, we can't predict when or how likely it is that we will be diagnosed with a critical illness in the future.
You are more likely to be diagnosed with a medical condition than to die for anyone of working age – the financial consequences may be more significant than the other.
We are financial advisors, and we give specialist advice and recommendations based on your circumstances and budget. We can help you navigate through the decision making of whether or not to buy trauma insurance cover.
What is trauma insurance, and what is it for?
Before deciding whether to buy trauma insurance, it is best to have clarity around what trauma cover is and isn't
A trauma policy pays out a tax-free lump sum if you're diagnosed with one of the illnesses or medical conditions listed in your policy, and you can spend the money how you like.
Trauma cover is designed to give you financial space to take time off from work and rest due to being diagnosed with a critical illness. That way, you have money to pay the regular expenses such as mortgage or rent without worrying about going to work.
Giving your body and mind the best space to heal and recover. Maybe you want to use the money to make alterations to your home due to your new condition or wish to fund treatment and other out-of-pocket costs.
What's the risk if I don't have trauma insurance?
The primary purpose of a trauma insurance policy is to provide a financial lifeline or backup plan to soften the economic blow that a severe illness diagnosis would have.
A severe illness diagnosis usually means needing time off work and income loss. Or a loved one needing time off work to support and take care of you could also affect the household finances.
What if my child is diagnosed with a critical illness?
If your child is diagnosed with a critical illness, this could also bring unexpected medical bills or time off work to help and assist with treatment and recovery.
The financial impact on any person and family is unique and depends on the economic situation and if you have dependents. For example, do you have cash savings? Or assets can and is willing to sell?
We commonly see cancer, heart attack, and stroke account for about 70% of all trauma insurance claims.
Would you be able to pay your bills if some of your household's income was reduced or if you had unexpected medical bills due to the diagnosis?
Do I need trauma insurance?
You should consider getting trauma cover as early as possible. Our health can change quickly. You may not be able to prevent the worst from happening. But you can reduce the financial impact by insuring your health, income, and life.
Many New Zealand employers offer group trauma cover insurance to protect their employees from the high cost of a severe illness.
Employers cover some or all of the insurance costs in some group plans. In others, the employees pay the full premium if they elect coverage, though they benefit from the group price.
You can continue the group trauma cover as an individual policy if you no longer work for the company.
Do I need life and trauma insurance?
Combined trauma and life insurance are known as accelerated benefits. They are more cost-effective because it gives you more comprehensive coverage, and you qualify for multi-benefit policy discounts.
Having both policies together can work out better (one monthly premium to pay) because you have one policy to cover the diagnosis of a critical illness, terminal illness and death cover.
If you opt for an accelerated trauma cover, it's worth remembering that the trauma cover only pays out once. However, you can claim multiple times if you have purchased a trauma reinstatement rider when taking out the policy.
Will my trauma cover insurer pay out my claim?
As long as your diagnosis or medical condition meets the definition of the illness as defined in the policy, the insurer will pay your trauma cover claim.
The critical illness policies we compare and recommend typically cover between 50 and 70 conditions. It is important to know what isn't covered in your policy.
The most common conditions claimed in New Zealand are cancer, heart attack, stroke, benign tumour of the brain or spinal cord, loss of hearing/sight, motor neurone disease, Parkinson's disease, Multiple Sclerosis and Alzheimer's disease.
This is also an excellent time to mention the importance of full disclosure and full medical underwriting when the policy is taken out.
One of the reasons, not the most common one that claims are denied is because relevant personal medical information wasn't shared during the application process when they took the policy out.
Will trauma cover payout multiple times?
No, trauma cover will not pay out multiple times. But it depends on if you added any trauma reinstatement rider or continuation rider when taking out the policy.
With these optional policy add-on benefits, you can claim multiple times. Just not for the same medical condition or event.
Another policy is called multi-trauma. This policy pays claims based on the severity of the illness, and therefore you can claim multiple times until the sum assured is used up.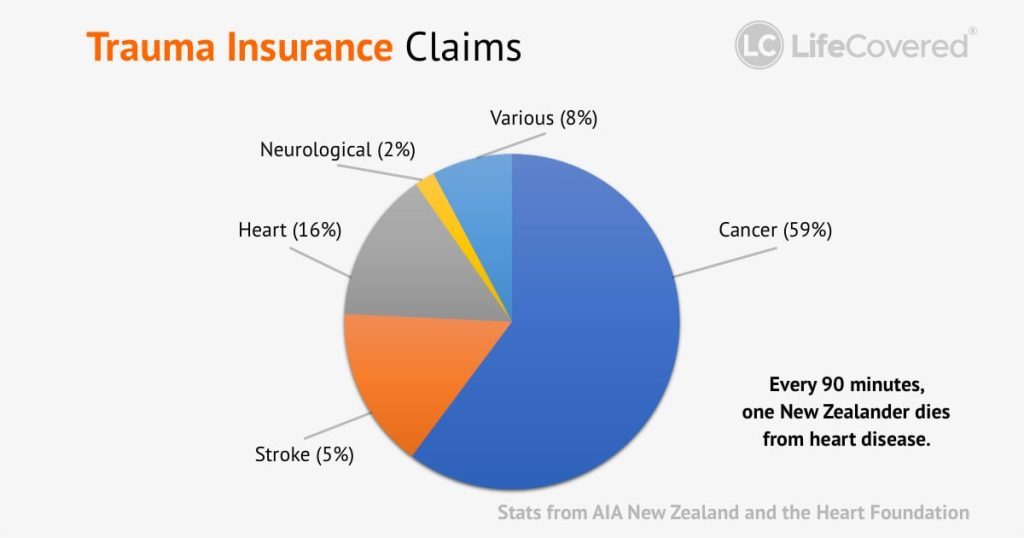 Is trauma insurance worth it for you?
If you are diagnosed with a critical illness, having access to this one-time lump sum cash benefit could prevent you from having to raid your life savings.
It can be challenging to think through the ramifications of getting seriously ill. And maybe even harder to commit to making those monthly premium payments to protect yourself financially.
Did you know that the Titanic only had enough lifeboats to accommodate a third of the ship's total capacity? Foresight is better than hindsight.
Then it's all the policies to choose from. We give unbiased insurance advice and recommendations based on your needs and budget. Our service is free of charge, and if you buy insurance from us, any other broker or directly, the price is always the same.
We compare the market to find trauma insurance that suits your needs and budget. And no hard selling.
The "big three" medical conditions, namely cancer, heart attack and stroke, comprise the vast majority of trauma insurance claims yearly. Nearly 80% of all trauma claims
Cancer: More than 60% of all trauma claims are cancer-related.
Heart attack: Comprising 15% of the claims paid out
Stroke: 6% of all claims paid out are for stroke
Trauma insurance pays a tax-free lump sum upon diagnosis of a severe illness or medical condition listed in the policy document. The cover is designed to compensate you financially, for loss of income etc., if you become severely ill.
Some insurers offer free children trauma cover when you buy a trauma cover. And you can add additional children trauma cover. Usually, the premiums are fixed until the child is 21 at $1 per $10k trauma cover. Get in touch for details.